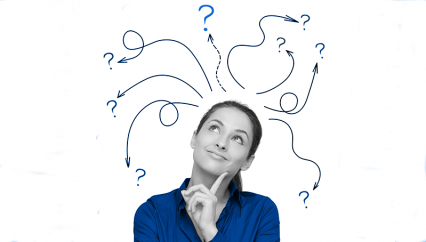 Production Estimates. Love them or hate them, they're an important part of a job's lifecycle.
If you'll recall, a Production Estimate is a detailed breakdown of the production costs associated with a job (e.g. printing, account executive time, stock photos, HTML coding, et. al). This form of Estimate doesn't typically contain costs for media placement or broadcast airtime. Those figures are compiled within your respective media buying software (e.g. TAPSCAN or STRATA).
A well-structured Estimate enables everyone involved to weigh project scope against anticipated costs. This helps better determine what makes sense and, frankly, what doesn't. It may be necessary to revise the initial Estimate multiple times before presenting it to the client.
As a job progresses, an Estimate also enables everyone involved to better track time spent – "The Art Director has five hours to work on this and he's only used two so far." – and to stay within the outlined parameters.
No one can predict the future, but I've developed a series of questions, below, that should help you anticipate your costs and plan your Production Estimate accordingly.
1. What are your deliverables and outputs?
Depending on the product you need to deliver, you may want to include the following creative-specific line items in your Estimate. Obviously, if your deliverable is a print ad, you won't require 3-D Animation or Voiceover(s). This is intended to be an exhaustive list of everything you may possibly need. Feel free to print this section to create your own checklist!
| | | | |
| --- | --- | --- | --- |
|  Line Item                                    |      Needed                   |  Line Item                                                            |    Needed    |
|  3-D Animation | |  Miscellaneous Art Expenses | |
|  Agency Fees | |  Miscellaneous Broadcast Expenses | |
|  Art Direction | |  Miscellaneous PR Expenses | |
|  Artwork Disk(s) | |  Music | |
|  Audio | |  Photography | |
|  Broadcast Director | |  Photography Director | |
|  B/W Lasers | |  Press Clipping | |
|  Camera/Crew | |  Production Company | |
|  Casting | |  Product Styling | |
|  Color Outputs | |  Props | |
|  Concept Development | |  Retouching | |
|  Copywriting | |  Rights/Fees | |
|  Creative Direction | |  Scans | |
|  Film Stock | |  Set Design/Construction | |
|  Graphics | |  Stock Photos | |
|  Grip | |  Stylist | |
|  Illustration | |  Talent | |
|  Lights | |  Type Formatting | |
|  Location Fees | |  Video Stock | |
|  Location Shoot Time | |  Voiceover | |
|  Make-up | |  Wardrobe | |
|  Master Cost | | | |
2. Will any materials need to be shipped?
Shipping costs can add up fast, especially if the items you need to transport are large or heavy or non-standard sizes. Make sure you include this line item from the get-go, so that it doesn't surprise your client, and to prevent incurring costs your company may have to eat. This is crucially important to consider if you're developing materials for a trade show or a client overseas. Work with your logistics team to get accurate pricing from different freight services to find the most cost-efficient way to transport your materials.
3. Is there travel involved?
If so, be sure to include lines items for gas, mileage, car rental fees, airfare, per diems, hotel expenses, and any mark-ups you may charge for these services. If you utilize a travel agency to book accommodations for your employees, you'll want to include those costs, too.
4. How about catering or meal service?
If you're anticipating a lot of lunch meetings or wining and dining, you'll want to allot some miscellaneous funds in your budget to cover this cost of doing business. If you're hosting an event on behalf of your client, of course you'll need to consider different tiers for catering services at multiple price points. If your employees will be in the field during meal times, include these costs, as well, and communicate a ballpark meal cost cap to your employees.
5. What's your timeline?
We operate in a fast-paced industry, but your time is worth money. What's the old adage? "Fast, Cheap, Good. Pick Two." If you've been presented with a timeline that's going to necessitate your employees putting in extra hours and weekends, don't be afraid to include a line item for "rush fee." A lack of planning on someone else's part does not constitute an emergency on yours.
6. Did you remember to include internal media time?
Sure, you've got your vendor costs listed, but did you include the time your media buyer will spend developing their recommendations and coordinating with vendors? Don't forget about them!
I hope this helped you answer a few questions about Production Estimates. If you need anything else, get in touch!