CONVENTIONS
QuickTIPs (and Links) are highlighted in blue.
Permission-based items are highlighted in red.
System navigation is italicized.
WORK IN PROGRESS
The Work in Progress (WIP) report is used by members of the Accounting Department to monitor the amount of time and expenses that have been recorded against jobs within CurrentTrack®. Details can be sorted by date range, Client and Job or Media Type.
To view a WIP report, go to Admin — Agency Administration — Create Work In Progress Report.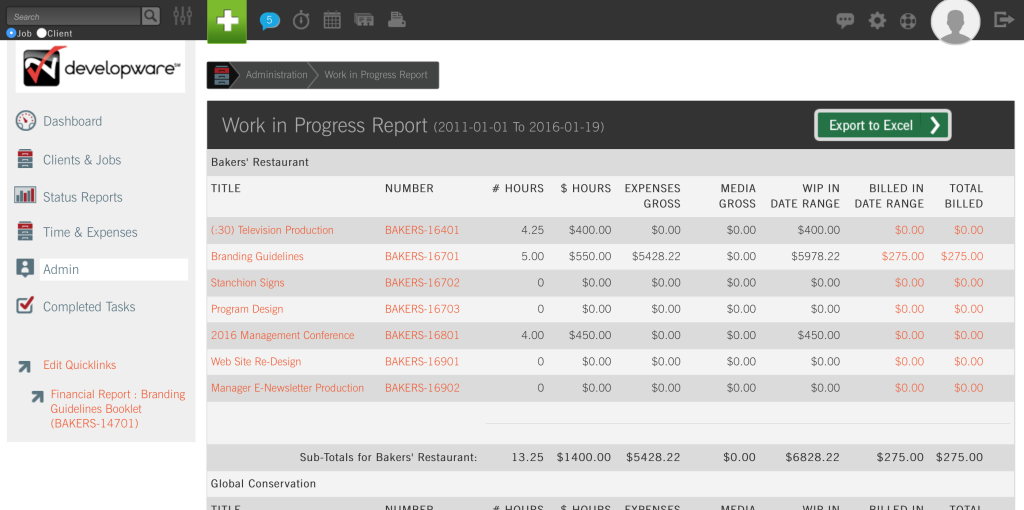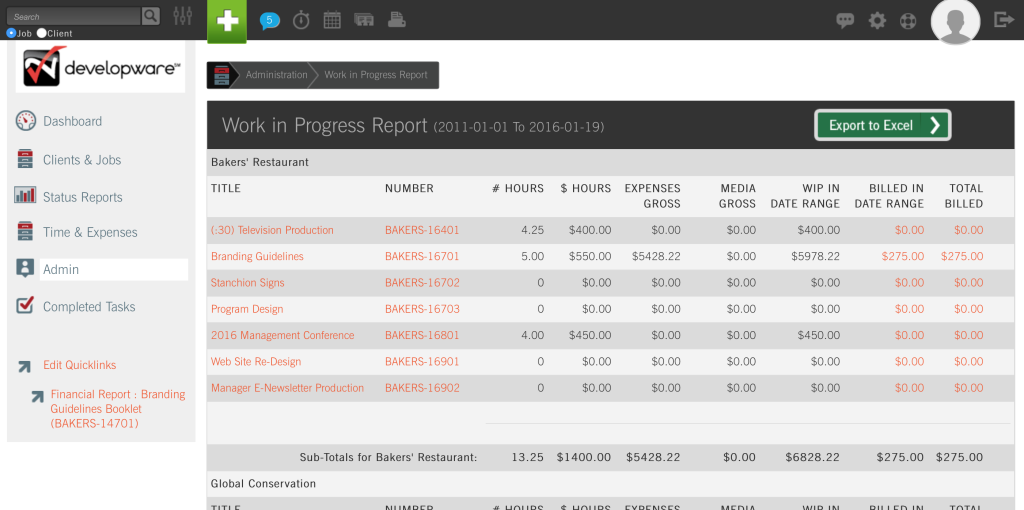 Clicking on a Job Title will take you to its Workback Schedule while a Job Number will lead to its date-specific Financial Report.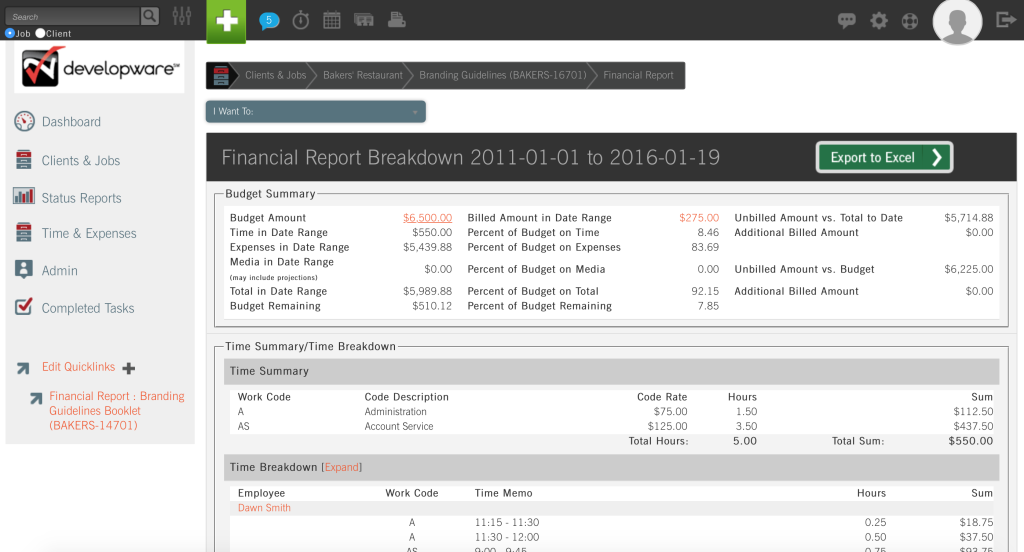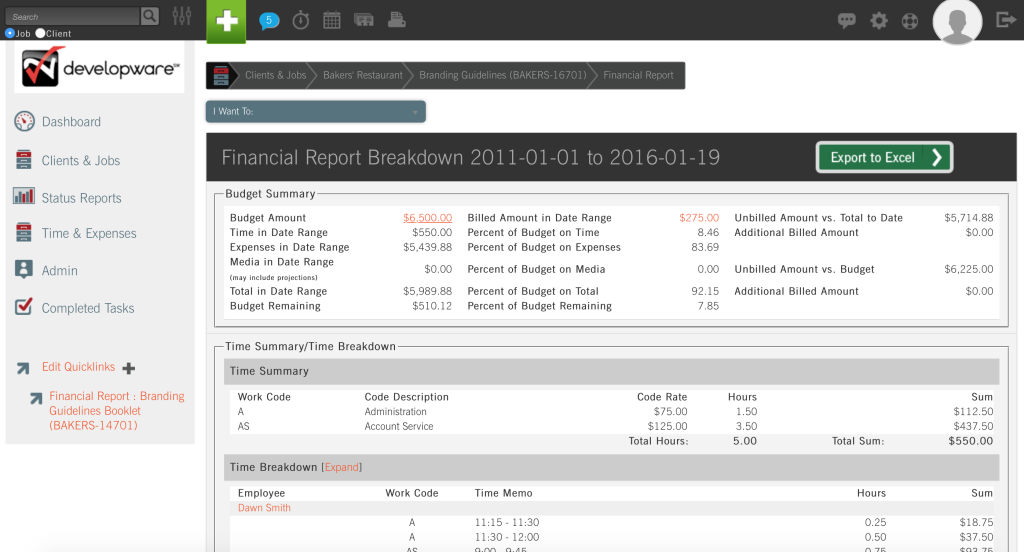 To view the Printer Friendly version of the Work In Progress Report, simply click the printer icon located at the top of the screen. To export the contents of the Report, click Export to Excel. The file, in .xls format, will automatically download to your desktop.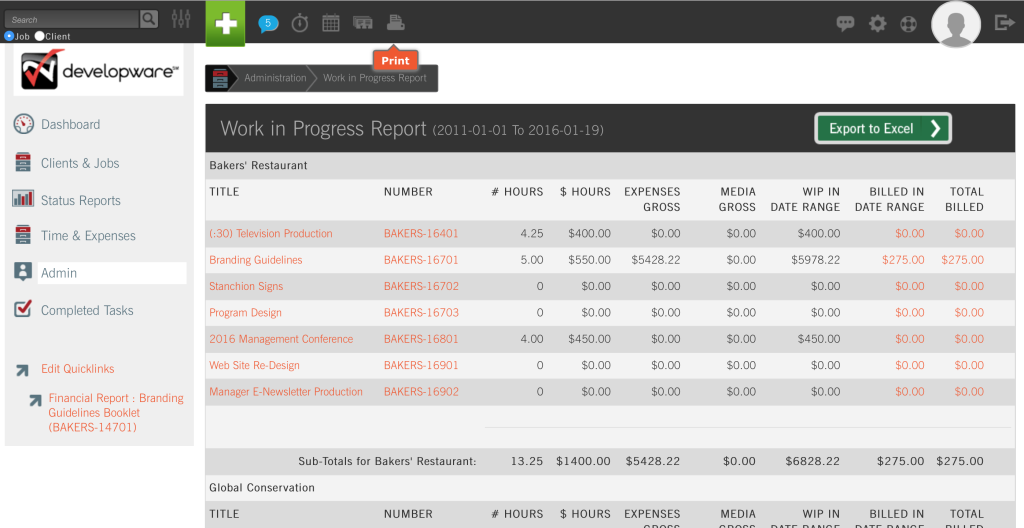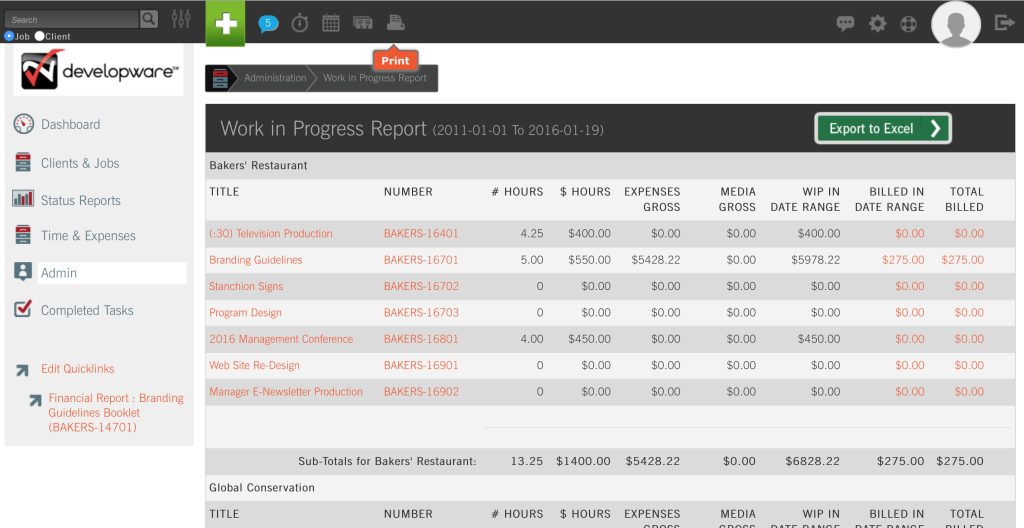 SCENARIO
I'm getting ready to gather and bill last month's time and expenses. How can the Work in Progress Report help me?
The Work in Progress Report can help you in a number of ways. Because it allows you to specify a date range, you don't have to spend a lot of time navigating to each job's Financial Report, Employee Time Sheets, et. al to find what you need.
In the Work in Progress Report, simply indicate the dates for which you'd like to see information. Then, enter the Clients' Sub-Totals in your outside accounting program (e.g. QuickBooks). Should you need to see a more detailed Hours, Expenses or Purchase Order (P.O.) breakdown for a particular job, simply click on the Job Title. CurrentTrack will display the [job] Financial Report with the items entered during the date range you specified.
The Work in Progress Report supplies you with the financial information you need to complete your billing, in one place.
SCENARIO
Should I consider advance billing media costs?
Yes, place the buy with the respective station(s) (or publication(s)) and then pre-bill the Client for the full amount (e.g. March through May). Or, if you'd rather, send a bill on the last day of the month for the upcoming month (e.g. send a bill on February 28th for March 2017 air time). Billing after spots have aired could potentially cause cash flow issues.
For example, you wait two weeks (or more) for spot(s) to air. You receive an Invoice from the Vendor a week later. At that point, you bill the Client and wait for payment; another week or more. Before you know it, a month has passed without the money being in-house. By pre-billing, it could feasibly be in-house in two weeks or less. Make goods could always be credited after the fact.